Programm
Predictive Analytics World Manufacturing Düsseldorf
2.- 3. Februar 2017, Hilton Düsseldorf
---
Predictive Analytics World for Manufacturing - Düsseldorf -

Tag 1 - Donnerstag, 2. Februar 2017
Registrierung und Frühstückssnack
Raum: Aristoteles 1+2
Kick Off Session
In this session we will present the results of two recent, international studies on the state of data analytics in industrial settings. You will get insights from an in-depth industry survey of 151 analytics professionals and decision-makers in industrial companies, providing a deep-dive into strategies, project types, cost structures and skill-demand in IoT-based analytics. In addition we will present a survey focusing on predictive analytics covering the market potential and expected development until 2022.
Ausführliche Beschreibung
Raum: Aristoteles 1+2
Session:
Machine learning and artificial intelligence promise to change the future of every industry, and manufacturing is no exception. But how to cut beyond the hype and start getting direct value from new technologies? In this presentation we will explain how big data analytics brings a new wave in industrial automation, and guide on practical steps how to implement the technologies in business operations. Moving from theory to practice, we will showcase our project for Magnitogorsk Iron & Steel Works, which is to save millions of dollars in steelmaking costs with a machine learning service, and share the technological details of the solution.
Ausführliche Beschreibung
Moderator
Referenten
Team Lead, Data Analysis Projects Group
Yandex Data Factory
Raum: Aristoteles 1+2
Session:
We present a novel solution template for manufacturing that combines SME and root cause analysis, data availability (failures at the end of manufacturing pipeline), and a flexible platform that decouples infrastructure (storage, data movement, visualization) from analytics engine which supports modern DS languages like R and Python. By using these components, we can leverage the existing manufacturing infrastructure and use machine learning to build advanced analytics solutions that predict failures before they happen. Early prediction of future failure devices, before they are shipped, allows repairs or even discarding that may be less expensive than going through recall and warranty cost. The solution template is based on real-world predictive analytics projects for supply chain management and electronic manufacturing provider Jabil (quality assurance) and high performance power systems manufacturer Rolls-Royce (operational intelligence).
Ausführliche Beschreibung
Raum: Aristoteles 1+2
Keynote:
Process mining provides new ways to utilize the abundance of event data in our society. This emerging scientific discipline can be viewed as a bridge between data science and process science: It is both data-driven and process-centric. Process mining provides a novel set of tools to discover the real processes, to detect deviations from normative processes, and to analyze bottlenecks and waste. The Internet of Events (IoE) not only includes classical sources of information like the webpages, information systems, and social media, but also incorporates the Internet of Things (IoT), wearables, mobile devices and Industry 4.0. Analogous to spreadsheets, process mining provides a generic domain-independent technology (starting from events rather than numbers). In his talk, Wil van der Aalst will argue that process mining should be an integral part of tomorrow's data scientist. He will introduce basic concepts and elaborate on his collaboration with industry. His research group at TU/e applied process mining in over 150 organizations, developed the open-source tool ProM, and influenced the 25+ commercial process mining tools available today.
Ausführliche Beschreibung
Raum: Aristoteles 1+2
Session:
In einem Forschungsprojekt untersucht Nokia Bell Labs Telekommunikationsdaten von mobilen Netzwerkbetreibern zur Erkennung von Anomalien und potentiellen Fehlerursachen. In dem zugrunde liegenden Datensatz werden ca. 300 Attribute von 1.5 Millionen Kunden und 37.000 Radiozellen verarbeitet. Diese dienen nach der Erfassung als Grundlage einer umfangreichen Fehler- und Ursachenanalyse in Echtzeit. Dabei kommen Algorithmen zur Anwendung für die Analyse von Zeitreihen, der Gruppenbildung und Parameterkorrelation sowie des aktiven Lernens.
Ausführliche Beschreibung
Raum: Aristoteles 1+2
Session:
One of the key reasons to engage in industrial IoT is predictive maintenance. While this application alone has many facets, e.g. because edge analytics on an embedded system and centralised compute in the cloud can be very different beasts, there is more to IoT analytics: Data scientists play a role in planning IoT solutions by providing operations research support to calculate business cases, they optimise spatiotemporal sampling strategies or find flaws in experimental designs. Altogether, the data scientist should be a key member of any IoT consultancy. Data analytics for IoT doesn't just mean new data sources and questions. A basic technical understanding of IoT network architectures and a sense of what 'real-time' means for different stakeholders are important as well. In the presentation various aspects of IoT data analytics are exemplified by a cost-benefit analysis for asset tracking, improved sensor deployment patterns in a smart city context, and a predictive maintenance solution for industry.
Ausführliche Beschreibung
Empfang in der Ausstellungshalle
Ende des ersten Konferenztages
Predictive Analytics World for Manufacturing - Düsseldorf -

Tag 2 - Freitag, 3. Februar 2017
Registrierung und Frühstückssnack
Raum: Aristoteles 1+2
Keynote:
Stories abound within the B2C environment where algorithms have added tremendous value. However, within the B2B setting, examples are fewer and data challenges greater. From market insight, to cross selling, from price optimization to raw material forecasting, this case study will describe how Dow Chemical has employed advanced analytics methods to "move the needle," driving value to enable Dow to hit its growth goals. Note that this will be partially presented in German and English.
Ausführliche Beschreibung
Moderator
Referent
Director of Advanced Analytics
The Dow Chemical Company
Raum: Aristoteles 1+2
Session:
Sandy Energized Analytics has developed a self-learning forecast model for the differential time series (DBA) of the area operated by EnBW. Information from tens of thousands of smart meters is continuously processed and combined with weather data as well as standard consumption profiles generated from historical data. An ensemble of regularized statistical models and machine learning algorithms runs in the Azure cloud and permanently updates the forecast for the next quarter hour. Our generic Sandy Analytical Layer ensures comprehensive monitoring and quick response times at little cost. Ongoing evaluations show that the predictive accuracy of established forecast models for electricity trading can indeed be significantly improved by our model.
Ausführliche Beschreibung
Moderator
Referent
Entwicklung Energielösungen
SANDY Energized Analytics - Eine Innovation der EnBW AG
Raum: Aristoteles 1+2
Session:
Maintaining product quality to a very high standard is of paramount importance in the regulated pharmaceutical industry. While detection of quality issues is easier due to the strict QC practices in pharma, identifying the exact root cause(s) of quality issues can be quite challenging due to multi-variable effects of raw materials, process conditions and process history. Through real life cases at Merck, we demonstrate how to identify the root causes of quality issues by using data exploration and modeling techniques such as regularized regression. In this session you will understand how you can apply advanced analytics techniques even under imperfect and limited data conditions to troubleshoot quality issues, by pushing the boundaries on data collection, using an iterative data collection and analytics approach, and combining the knowledge from the pharmaceutical and data science domains.
Ausführliche Beschreibung
Moderator
Referenten
Head of Global Pharma Technology
Merck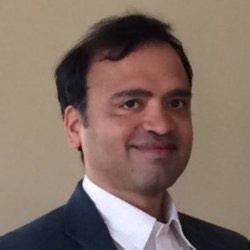 Raum: Aristoteles 1+2
Most of today's condition monitoring measurements are executed manually on the shopfloor by engineers using portable devices – with functionalities to export both a snapshot of raw data and corresponding condition measures. But data streams beyond this measurement time window remain hidden and unknown. With big data technology in place, the real-time and high-frequency nature of sensor and machine data can now be processed and analyzed in a very efficient way – 24/7 – fully automated – in real-time. We present a novel and proven blend of data-driven analytics methodologies based on high-frequency vibration measurements and demonstrate the crucial steps ranging from sensor data acquisition, signal processing methodologies, feature engineering, model training & validation up to model deployment. To gain a better understanding the use case is demonstrated using the open analytics platform KNIME. We present novel KNIME DSP nodes which allow a blended usage of digital signal processing techniques and machine learning algorithms with an unknown simplicity and precision.
Ausführliche Beschreibung
Raum: Aristoteles 1+2
Session:
Der Wellness-Trend im Bereich Internet der Dinge nimmt ungeahnte Ausmaße an: nahezu wöchentlich kommen neue Apps und dazu passende Hardware auf den Markt. Handelt es sich dabei nur um Spielzeug? Oder kann man diese Apps und Devices auch im Rahmen der Industrie 4.0 für konkrete Geschäftsanforderungen nutzen? Das Projekt WorkRight, durchgeführt in Kooperation mit North Star BlueScope Steel und dem IBM Watson IoT Forschungslabor in Haifa, haben gezeigt, dass die Technologien, die heute im privaten Umfeld verwendet werden, auch in der (Schwer-)Industrie Anwendung finden und Nutzen stiften können. Ziel ist es, mit voraussehender Analyse die Arbeitsplätze sicherer zu machen und gleichzeitig die neuen Arbeitnehmerschutz-Rahmenrichtlinie der EU (89/391/EWG) effizient einzuhalten sowie die Maßnahmen entsprechend zu dokumentieren. Erfahren Sie mehr über die Möglichkeiten von Predictive Analytics und Cognitive Computing im Umfeld der 4. Industriellen Revolution.
Ausführliche Beschreibung
Moderator
Referent
Solutions Architect Industry 4.0/Life Science
IBM Watson IoT
Raum: Aristoteles 1+2
Session:
In der Lebensmittelindustrie ist Sauberkeit und Hygiene oberstes Gebot. Die Reinigungsmittel, die eingesetzt werden, sind aber teuer und z.T. umweltschädigend. Umso wichtiger ist eine genaue Dosierung, um die Wirkung bei minimalem Mitteleinsatz zu gewährleisten. Die Konzentration von Reinigungsmitteln ist aber nicht direkt messbar, was die Steuerung der Eingabe erschwert. Mit einem Breitband-Mikrowellen-Sensor der Ilmsens GmbH kann die Zusammensetzung von Reinigungsmitteln in wässriger Lösung zwar untersucht, aber nicht direkt bestimmt werden. Mit statistischen Verfahren und modernen Methoden aus dem Bereich maschinellen Lernens konnte jedoch die verschüttete Information geborgen und ausgewertet werden, sodass ein völlig neues Geschäftsmodell für den spezifischen Sensor erschlossen wird.
Ausführliche Beschreibung
Raum: Aristoteles 1+2
Closing Session:
Nowadays, everybody is following the hype around machine learning in general and around deep learning (DL), in particular. We are trying to use it for predicting unexpected down-times of machines, or to discover anomalies in data streams observing machines. What is usually missing is the magic. Most often DL is supervised, which means that someone is labelling some data which gets fed into some algorithm. But as an alternative, there is a new star at the horizon: Reinforcement Learning (RL). This is a concept using an agent and an incentive system to train an agent. By taking the incentives the agent can learn and improve his behavior. As a result, this is a self-learning system and only requires some simple rules. The combination of RL and DL eventually takes us to something we could consider as artificial intelligence. With AlphaGo we have seen how the combination of RL and DL can win a Go tournament. This is a very promising step in an interesting direction. This talk will provide an introduction into reinforcement learning. It shows how reinforcement learning and deep learning can be combined towards an AI system by providing some insights into existing projects. Starting with annotated data and using DL, it is possible to create a base model. This model gets refined with RL mechanisms. Finally, this talk will show how this approaches can be used to map it to Internet of Things and Industry 4.0 scenarios, such as a self-learning robot.
Ausführliche Beschreibung
Ende der Predictive Analytics World Manufacturing 2017
---